En mars 2021 est paru aux Éditions Routledge l'ouvrage en anglais Balancing the Commons in Switzerland. Institutional Transformations and Sustainable Innovations, par Tobias Haller, Karina Liechti, Martin Stuber, François-Xavier Viallon, Rahel Wunderli.
Présentation (français) :
L'ouvrage étudie les similitudes et différences entre les institutions locales (règles et règlements) et les formes d'organisations communautaires (corporations de citoyen-ne-s et sociétés communautaires) gérant depuis plusieurs siècles les biens communs et contribuant à la formation et à l'entretien des paysages culturels de la Suisse. Pour ce faire, l'ouvrage comporte cinq études de cas provenant des régions germanophones, francophones et italophones de la Suisse. Partant de la fin du Moyen Âge et se concentrant sur les périodes de transformation des XIXe et XXe siècles, l'ouvrage retrace les changements politiques, économiques et sociétaux internes et externes et examine l'impact de ces changements sur les organisations communautaires. L'ouvrage va au-delà des travaux de Robert Netting et d'Elinor Ostrom, qui considèrent les biens communs suisses comme un cas unique de robustesse, en analysant comment les organisations communautaires locales ont réagi aux changements, mais aussi les ont façonnés, en adaptant et en transformant les institutions de propriété commune. Ainsi, l'ouvrage met en lumière la manière dont les changements institutionnels dans la gestion des biens communs au niveau local sont ancrés dans les politiques publiques des cantons respectifs et de l'État fédéral, générant ainsi une grande hétérogénéité et permettant une comparaison quasi-expérimentale. Le livre montre les relations de pouvoir et les voies très différentes que les organisations communautaires locales et leurs membres ont suivies pour faire face à la perte de valeur des biens communs et à l'augmentation de la charge de travail pour maintenir la gestion de leurs biens. En fournissant des études de cas fouillées sur la gestion des biens communs, ce volume apporte des contributions théoriques et des leçons à tirer pour les biens communs dans le monde entier.
Presentation (english) :
Balancing the Commons in Switzerland outlines continuity and change in the management of common-pool resources such as pastures and forests in Switzerland.
The book focuses on the differences and similarities between local institutions (rules and regulations) and forms of commoners' organisations (corporations of citizens and corporations) which have managed common property for several centuries and have shaped the cultural landscapes of Switzerland. At the core of the book are five case studies from the German, French and Italian speaking regions of Switzerland. Beginning in the Late Middle Ages and focusing on the transformative periods in the nineteenth and twentieth centuries, it traces the internal and external political, economic and societal changes and examines what impact these changes had on commoners. It goes beyond the work of Robert Netting and Elinor Ostrom, who discussed Swiss commons as a unique case of robustness, by analysing how local commoners reacted to, but also shaped, changes by adapting and transforming common property institutions. Thus, the volume highlights how institutional changes in the management of the commons at the local level are embedded in the public policies of the respective cantons, and the state, which generates a high heterogeneity and an actual laboratory situation. It shows the power relations and very different routes that local collective organisations and their members have followed in order to cope with the loss of value of the commons and the increased workload for maintaining common property management. Providing insightful case studies of commons management, this volume delivers theoretical contributions and lessons to be learned for the commons worldwide.
This book will be of great interest to students and scholars of the commons, natural resource management and agricultural development.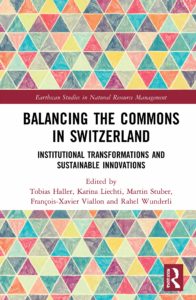 Balancing the Commons in Switzerland
Institutional Transformations and Sustainable Innovations
Edited By Tobias Haller, Karina Liechti, Martin Stuber, François-Xavier Viallon, Rahel Wunderli
ISBN 9780367488734
Published March 29, 2021 by Routledge
322 Pages 41 B/W Illustrations
Tobias Haller is Professor in Social Anthropology and Managing Director of the Institute of Social Anthropology, University of Bern, Switzerland. He is the leading author of The Commons in a Glocal World (Routledge, 2019).
Karina Liechti is a Senior Research Scientist at the Centre for Development and Environment CDE and at the Institute of Social Anthropology, University of Bern, Switzerland.
Martin Stuber is Senior Scientist at the Institute of History, University of Bern, Switzerland.
François-Xavier Viallon is a Political Scientist at the University of Lausanne, Switzerland.
Rahel Wunderli is a Postdoctoral Assistant at the Institute of History, University of Bern, Switzerland.
Nous remercions François-Xavier Viallon pour son soutien et la traduction en français du résumé de l'ouvrage.
Source : https://www.routledge.com/Balancing-the-Commons-in-Switzerland-Institutional-Transformations-and/Haller-Liechti-Stuber-Viallon-Wunderli/p/book/9780367488734